< Back to all boat designs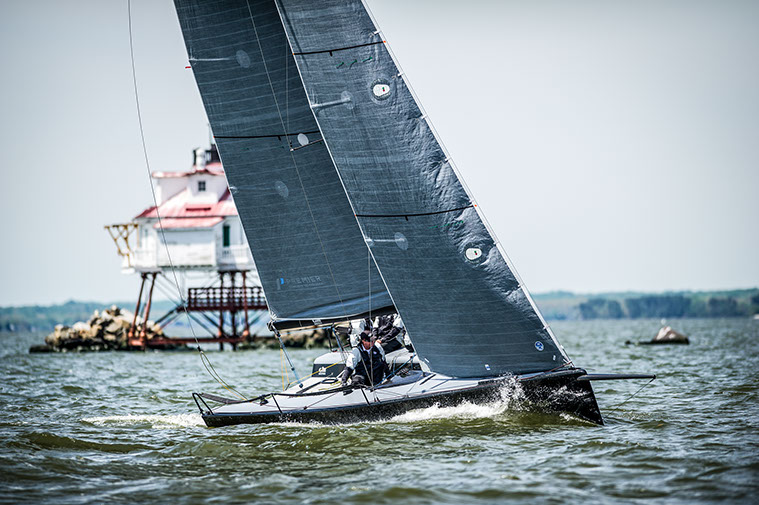 The Farr 280 One Design is a new production racing sailboat by Farr Yacht Design that will deliver the excitement of grand prix racing to the under-30' one design arena. As a modern one design, the Farr 280 delivers contemporary grand prix features and style in a more achievable small boat package. The boat will have dynamic performance on all points of sail, with a focus on inshore racing with a moderate crew size of five to six people.
The bold hull shape has a reverse stem, a long chine and wide beam carried aft to the transom to produce powerful performance and second looks for years to come. The clean, flush deck layout keeps control systems below deck while the long, broad cockpit provides plenty of room for easy boat handling. Deck hardware and winches are generously sized and positioned for serious racing. Hiking lines allow the crew to comfortably maximize hiking power without impeding spinnaker handling on the foredeck.
A two-spreader carbon mast carries a generous square-headed mainsail, twin running backstays, a large asymmetric spinnaker flown from a fixed carbon bowsprit, with advanced active rig controls providing direct control of the forestay and mast tune. The boat also features a below deck spinnaker launching and retrieval system for quick and easy sail handling, allowing the real focus to be on sailing.
Under the water, the Farr 280 sports a fixed T-keel with lead bulb, GRP fin shell and steel fin spar for low center of gravity, reduced maintenance, and one design geometric repeatability. A high aspect rudder under the hull provides excellent grip and helm feel through a carbon rudder stock and tiller. The keel is easily removed for low-height transport.
The Farr 280 will be built using E-glass reinforcement infused with vinylester resin. The hull is constructed with Corecell while the deck uses rigid PVC foam. A 13 horsepower inboard diesel engine provides easy and safe operation under power to make the beginning and end of the day hassle free.
The Farr 280 is envisioned from the beginning as a strict one design with rigorous manufacturing controls and pre-delivery check measurements. The one design class controls have all been developed alongside the design, adhering to the principle of owner/drivers and limited professional crew.
Farr 280 One Design
Daily Sail
Storm Trysail Club Annapolis Fall Regatta

| October, 2014

Charleston Race Week

| April, 2014
LOA:
LWL:
Beam:
Draft:
Displacement:
Ballast:
I:
J:
P:
E:
ISP:
TPS:
Bow sprit:
8.72 m / 28.6 ft
8.02 m / 26.3 ft
2.87 m / 9.4 ft
2.10 m / 6.89 ft
1,600 kg / 3,525 lbs
650 kg / 1,425 lbs
11.36 m / 37.3 ft
3.15 m / 10.3 ft
11.69 m / 38.4 ft
4.14 m / 13.6 ft
13.02 m / 42.7 ft
4.98 m / 16.34 ft
1.64 m / 5.38 ft
Mainsail: 32.2 m2 / 346 ft2
Foresail: 20.4 m2 / 220 ft2
Asym spinnaker: 107m2
Motor: 20 hp diesel inboard saildrive

Farr280.com